Responding to an earthquake
Due to their unpredictable nature and sometimes devastating scale, an earthquake is an extremely difficult natural disaster to prepare for. They offer little warning of their imminent onset, and can have drastically varying consequences; a larger quake can turn buildings to rubble, while the more common, smaller quakes often cause travel disruption. Levels of damage depend on a number of factors including an earthquake's size (as measured on the Richter scale), location, and the vulnerability of the affected area. The aftermath of an earthquake presents serious risks including aftershocks and tsunamis, and other disruptions, such as airport closures and building evacuations. Travellers must ensure they are familiar with earthquake risks prior to travel, and are aware of the appropriate procedures to follow, to mitigate against injury and travel disruption.
While the risk of an earthquake will not have changed over the last 18 months, the attention of emergency resources has been diverted towards the pandemic. Emergency budgets will be stretched more than usual, while damage mitigation procedures are unlikely to be taking priority when many nations are also experiencing simultaneous health and economic crises. Travel managers will want to ensure that their travel management plans are updated for the new security environment.
Risks
Traffic disruption: A 5.9-magnitude earthquake struck close to the California-Nevada border in July 2021, causing temporary travel disruption. The US 395 highway was blocked by a rockslide, which left boulders strewn across the road. Quakes can also open surface ruptures, which can render roads unusable until repair works are carried out.
Flight disruption: An earthquake in Utah caused the temporary closure of Salt Lake City International Airport in March 2020. While it only took a few hours for the airport to restart operations, hundreds of flights were delayed and cancelled. More severe quakes can cause major infrastructure damage to airports, closing them for long-term repair works, while cutting off whole regions.
Power outages: In 2019, a series of four quakes ranging between magnitudes 5.4 and 7.1 struck southern California. For two days, 7,000 residents were affected by power outages.
Fires: Earthquake damage inflicted upon electricity lines and gas supplies frequently starts fires. If waterlines are also damaged, extinguishing fires can be a difficult task.
Suspension of communications networks: A 5.8-magnitude earthquake hit close to the coast of Peru's capital in June 2021, which temporarily interrupted the phone lines of 32,000 city residents. Coastal roads were also closed following landslides, while damage was reported to the city's international airport.
Building damage: When a 7.0-magnitude earthquake struck off Turkey's Aegean coast in October 2020, it caused 20 buildings to collapse in Izmir, killing 119 people. Poor construction practices and outdated earthquake regulations were the reasons for the collapses. Hundreds more buildings were damaged along the coast. 15,000 people were made homeless by the quake in Izmir alone.
Tsunami: One of largest earthquakes ever recorded occurred in March 2011, when a 9.1-magnitude quake struck off the northeast coast of Japan. The earthquake was felt across the pacific, but its most devasting consequence was the tsunami it generated. The wave swept over northeastern Japan, making its first impact just 25 minutes after the earthquake struck, topping tsunami walls and sweeping away everything in its path. At its highest point the wave was recorded at 30ft. It destroyed an estimated 561 square kilometers and damaged a nuclear reactor in Fukushima, leading to the discharge of radioactive water. 19,747 people were killed in the natural disaster, while a further 2,556 remain missing. Its aftermath was felt in places across the globe including in Hawaii, California, French Polynesia, the Galapagos Islands, Peru, and Chile, while the cost of the damage totaled USD220bn, making the earthquake the costliest natural disaster on record.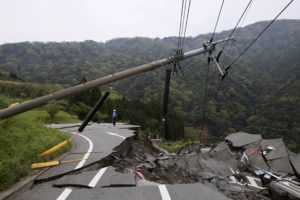 NGS Advice
The following are pointers for travellers to consider when travelling to an area in which an earthquake is a notable risk.
BEFORE TRAVEL:
– Research whether destination is an earthquake and tsunami hazard area
– Know community evacuation plans, including high ground evacuation points
– If possible, ensure accommodation is built to withstand earthquakes
– Ensure appropriate insurance is acquired
– Prepare a grab bag (including first aid kit, water, torch, copies of travel documents etc)
– Register with local embassy, so they are aware of your location in the event of an earthquake
IMMEDIATE ACTION:
– If indoors, stay there. Lie under desk or stand against an interior wall
– Stay clear of exterior walls, glass, heavy furniture and appliances
– Cover your head and neck
– If outside, move into open space and away from buildings, power lines or anything that could fall on you
– If in mountainous area be aware of possible landslides. If near ocean be aware of possible tsunami
– If driving, stop carefully away from other vehicles if possible
– If you are trapped, send a text or bang on a pipe or wall to alert rescuers
– Do not use elevators
FOLLOW-UP:
– Listen to radio for important information and instructions
– Prepare for possible aftershocks
– Do not move seriously injured people unless in immediate danger of further injury
– Watch out for fallen power lines, broken gas lines and glass
– Turn off utilities
– Open doors cautiously, be aware of objects falling from above and off shelving
– Amend travel plans and notify your line manager when appropriate
– If near the coast, immediately move to higher ground or further inland
NGS Support
These considerations are by no means exhaustive. They can be expanded according to an employer's own risk appetite, and the advice of in-country security providers. Northcott Global Solutions is an international global assistance company that provides:
–  Journey management planning
– Risk management
– Security support (including PPE)
– 24/7 tracking
– Emergency evacuation
– Remote medical support
Contact: security@northcottglobalsolutions.com